Did you know we offer field trips at Stone and Glass?
Check out this great feature on NBC San Diego with Greg Bledsoe to get a feel for the experience.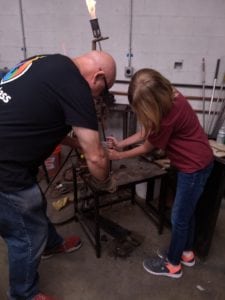 We open our doors by reservation and share the science and history of glass with students ages 6+ years of age, in groups of 10 to 30 students.  We begin with an introduction, the history of glass and a safety discussion. Moving on to the main attraction; you will see a glass blowing demonstration followed by a hands on activity and finish with a question and answer session.
Each participant will take home a souvenir glass coin.
Fee for the trip is based to the number of participants, each child under 9 must be accompanied by an adult.
For more information on bringing a group to Stone and Glass please call 760-294-7447 or email info@stoneandglass.com
We offer a similar experience for adult groups too.