You meet the most interesting people at art shows.
James and I had the good fortune to meet Keith Anderson at an art show last year and we were so drawn to his work we asked him to show in our Gallery.  Keith agreed and will be our featured artist for the month of April.  Please join us for his artist reception on April 14.
In addition to his paper art Keith is also a talented musician, his music is featured as part of this video on youtube
Biography – Earth Paper by Keith Anderson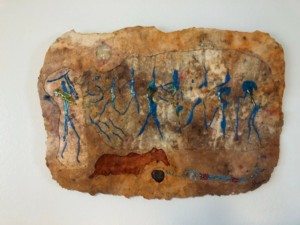 I am drawn to paper as an art form because of its infinite ability to capture color and shape.  It was 1989 that I began working with paper as an art form, experimenting with plant fibers, wood, stone, dies and paper.  I have developed a unique and evocative expression that captures the imagination.  I recycle office paper back into paper pulp, this pulp is then reborn as a living canvas using a casting and sculpting process that I have developed over many years. My paper sculpting process results in a rock like background for my images, landscapes and abstracts.  It looks hard and heavy but in fact, is very light and strong.
Many of my images are based on the ancient art of petroglyphs, and rock paintings from around the world.  I am greatly influenced by the first artists, men and women who recorded ancient worlds using simple tools and images.
I stand in awe of the creative genius that turned caves into cathedrals.  It is these images and lost messages that form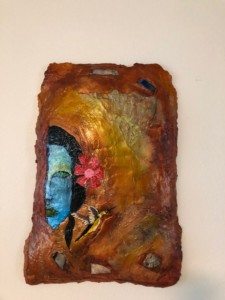 the theme of much of my work.  These simple drawings speak of the earth and of the spirit of the indigenous people who live close to it.
Each piece is unique, some petroglyphs are from this country of Native American traditions, while others originate in Australia and Africa and a few from Hawaii.