To all of my valued Patrons, friends and customers. I hope this note finds you well and enjoying preparing for the holiday season. Thank you for taking the time to keep up with this crazy old glass blower.
Wow, time is going by so fast that it makes my head spin. It is hard to believe that an entire month has gone by since I last sat down to share the goings on at Stone and Glass and that so much has happened.
The biggest news at Stone and Glass
We have been selected to develop and implement a collaborative public art installation at UCSD. We will be co-creating ten Stone and Glass benches based on student and faculty designs for the new 8TH college.
Call to Artists
This "call to artists" competition in also open to the general public. If you are interested in applying to be part of this wonderful experience, the applications are available now and due back no later than November 17th. The university staff, Carol and I will be selecting the ten most compelling designs to be produced. We are looking for designs that in some way relate to and speak to life on campus at UCSD.  Download Glass-Bench_Call to Artist
No prior art experience is required and participants do not need to be visual arts students! Interested parties should attend a presentation at the Craft Center (located in New Sixth College) on Wednesday, November 2 from 4-6 pm.
The most exciting part of this competition is that the designers of the selected works will be able to participate in the creation of the actual art, as much or as little as they would like. This is a collaborative learning experience. You do not have to be a matriculated UCSD student or have any experience in glass or metal in order to apply. In an effort to extend "community outreach," UCSD has opened this "Artists Call" all to the public.
Submit a design concept – by November 17, 2022
Download the artist-submittal.docx  send your design concept with the completed form to James@stoneandglass.com
If you have questions regarding the project you may send them via email to James at james@stoneandglass.com
On a historic note
Back in 2005 I was very privileged to create artwork for the Santa Monica Medical Plaza at 15th and Arizona in Santa Monica. If you were never a patient there you probably never saw these pieces. The building recently changed hands. The new owners did not want the artwork. The previous owner contacted me for help to find forever homes for those pieces.
As it turns out, the massive bench I made for the entryway was designed based on an image of King Neptune.  Interestingly enough the UCSD logo uses the image of Kin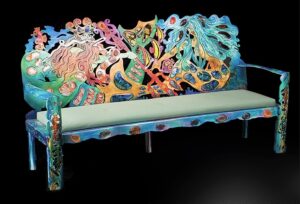 g Trident. One king is as good as another, right? So, we were able to convince the owner to donate this piece to UCSD. If you come to the bench project rollout at the craft center on November 2nd, you can see this fabulous vintage piece in person.
Please keep us in mind as you search for holiday gifts for your friends and loved ones. Nothing quite says "I care" like a beautiful locally hand made piece of glass art. I am trying to keep the gallery loaded with beautiful creations. But the Stone and Glass schedule is already pretty full so I suspect our holiday gift inventory will run low, quickly.
If you are a patron used to commissioning custom pieces for holiday gifts, please reach our sooner than later. Shortly our production schedule will be full and we will not be able to accommodate last minute custom orders.
Other than that, have a great holiday. I will do my best to keep everyone posted.
May you all be blessed to live in the light.