Wow, time is moving so fast right now.
I can't believe that yet another month has zoomed by and we have already started to experience the holiday rush. To quote the song, Jump in the Line "somebody help me, please"
This past month saw two fairly large archive pieces find their forever homes.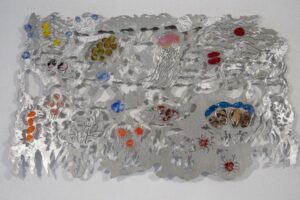 First, this wonderful sea life piece has moved to its forever home in New Jersey. This was the last and best of my most recent three-piece limited-edition sea life wall series, created about two years ago.
Fountains
The second piece to find its' forever new home was this lovely copper and glass sea turtle fountain.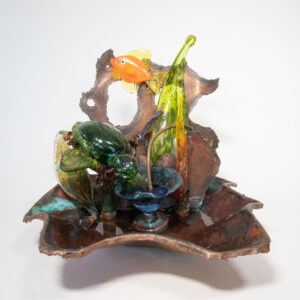 .  Again; this piece was made a couple years ago. These fountains are collaborative pieces with my ex-partner Rod Bass. Once again, we usually make them in threes. Over the years we have made about 50 of them from simple tabletop models, all the way to this beautiful lobby installation at the Montefiore Senior Center in Cleveland Ohio.  Just this past week we had a patron who was visiting San Diego from Cleveland and recognized pictures on our wall of this piece. She would regularly visit her father and sit by this fountain and chat when he was a resident in Montefiore. How small a world is that?
I am always happy when a piece finds a loving family, in this case I am just a bit sad. Rod is having some health challenges and will not be available to help me as I create the next series of fountains, hopefully he will be back soon and maybe even in time to help me create your holiday gifts. We hope to get one more fountain finished before the holidays. We will keep you posted.
Good News and Bad News
As for the holidays, as always, there is good news and there is bad news. The good news is that people are shopping early. The really great news, with the success of the Collectors Club and several very large custom commission projects, we haven't had much available time to make new gallery inventory.   Classes fill very quickly because we have limited time to teach.
I am hoping that by the first of November we will be caught up enough to have some time to make some beautiful and exciting new limited edition pieces for your gift needs.
These bowls just light up
It is my intention to make about a dozen of our new footed wavy bowls series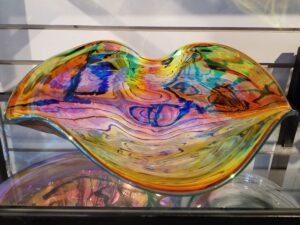 . This great new design is full of color and life. After the bowls are finished, we coat the inside with titanium. These bowls just light up. The foot is made so that they can hang on a picture hook on the wall or be taken down and used on your table. They will really brighten up your room with any light, for spectacular results light from both the front and back, with dimmable spotlights. Create your own wall sculpture with several of these special pieces.
New artwork will be in short supply for the holidays, we plan to post and email pictures as they are finished. Pieces will be available on a first come bases. Yes, you may custom order by color and quantity. Delivery may very well be after the holidays
"Stone's Stone stacks"
The last project that I hope to get back to is "Stone's Stone stacks".   We launched the stacks in early 2021, they are much like trail markers or cairns.  Stackable, full of bright color on the surface creating intriguing color reactions and impressions.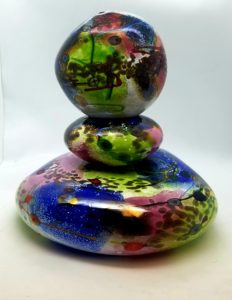 Once again, they will be available as a limited-edition series, so if you need to mark you trail through life with some of James "Stone's Stones" grab them as soon as you see them.
That's it for the moment. To all of our patrons and friends, you very much feel like family, stay healthy and I wish you the best on your own personal journeys.