2018, oh what a year!
I think that we can confidently say that we are back. Since the 2017 April Fool's Day fire, Stone & Glass has morphed into a very different business.
It is a funny thing, this is my third studio since I began in 2001, and it is by far the best place of the three. In real estate, you learn that there are three things one needs to be successful; location, location, location. That is so true. We are now located on the west end of Grand Avenue, still considered downtown Escondido. One-hundred-thousand plus cars go by every week. We have wonderful landlords who understand what we bring to their property and appreciate our efforts. What a blessing to finally be here.
When we opened, it took all of our resources to get into the building; building permits, approvals, restore and replace equipment and then get up and running after the fire that closed our doors. There was little left over, no extras, some of the "niceties" were axed in the name of budget. As the New Year progressed we were able to pay our bills and breathe again.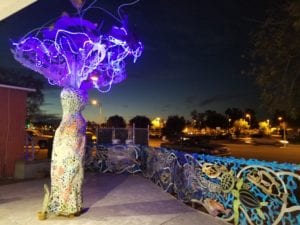 Before the end of our first year on these premises, we were able to get the new patio in place and resurrect and install our "Urban Tree 3" in the front patio, complete with lights.  Now as you drive into downtown Escondido at night you cannot miss our place. It's on the right – look for the bright blue lights.  It has been painful but so exciting to slowly recapture our lives after the April Fools Day fire in 2017.
Our Team
Next on this list is how happy we are with all the people who have committed themselves to and became part of Stone & Glass in one way or another. In order to accomplish anything in life you have to have support from great people.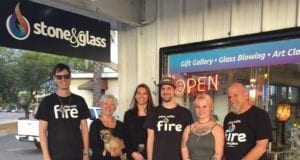 By far the most important person to Stone & Glass is my wonderful, smart and patient wife, Carol. She was able to keep all the wheels on the train throughout the entire recovery process. She continues to keep me personally moving forward and keeps me finishing my work and out of trouble, which in and of itself, is a full-time job.
We mentor young artists as they start their personal careers and she does all the things that make Stone & Glass a great place to be, to work, and to create art.
I can't say enough about my wonderful team. Jon has been with us at all three studios. He is my main man. He is always there when needed by me or anyone else. When he is in the studio he is busy making things better for everyone.
Travis started at Stone & Glass before he went off to earn a BFA. He is now a leader on the sculpture team and has taken over all the cold working. He is smart, reliable and a very talented artist in his own right.
Nicole, who took her first glass lesson with me when she was nine years old, came back 10 years later as a budding artist. She has really blossomed this year. Her torch pieces just keep getting better. I predict she will soon be collected nationally.
Great Patrons
We have been so lucky this year, with so many aspects of running a creative business. One area where we have been overly blessed is with great patrons and good customers.
What makes a "great" patron? A great patron is a person who wants to help all of us further our artistic journey by supporting our visions with money and kind words. In the past I would try to make what I thought I understood to be in my patron's head. After the fire, I decided to give that up. This year I was privileged to have patrons who took off the chains and said "just create; we know it will be good and we trust you."  These people provided the opportunity to make some of my favorites pieces this past year.
A Treasured Frog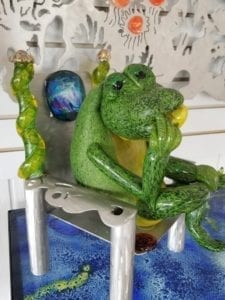 I was challenged to make a large glass frog on a throne. It had to look like the stuffed frog that my client's son had since he was a toddler. The color had to match, he had to have a personality and then I had to make the throne. They were involved in the entire process. Only they knew what "Stinker" as we grew to call him, needed to look like in order for it to touch their son. I had to make it five times before I got it right. Thankfully, they willingly paid for the dramatic learning curve. Thank you for all of the years of stretching my abilities on many projects and for your continued support, it means a lot to me and everyone at Stone & Glass.
Glass Octopus
I guess I must like a challenge because into my life strolled this very cool project.  They saw the article in San Diego Home/Garden Lifestyles Magazine where I was awarded "Top Ten Rising Star Artists of San Diego". They kept the article because they knew that someday they wanted to work with me. They have provided the most challenging opportunity of my career. They have funded the creation of a life-sized Pacific Coast Octopus to be cast in colored glass. This is a giant and really complicated project. As of this writing, we are only about 35% of the way thru the project. The models are roughed in and we are getting ready to cast the waxes which will eventually be cast in glass for the tentacles. I am hoping that by the first of February we will have our first glass prototypes finished. A very big part of being a successful artist is having opportunity and this project provided the single biggest opportunity that has come my way in many years, thank you both!
Garden Sculpture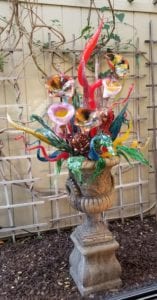 Another project I would like to share was a very pleasant departure from my usual pieces and interesting challenge. Our client needed to brighten up a dark spot outside between two parts of her house that did not get much sun. She loved flowers and had a great pot to provide for the project. We started making pieces in between other projects; a few a week. The client was wonderful, whenever we asked her to come by and approve pieces she always accepted them all.  On the day of installation we worked together to arrange the pieces and it became apparent that the bouquet was a bit sparse, there was room for so much more. We went back to work and created an additional dozen pieces hoping that she would pick about half of them. She loved them all and paid us for the entire installation. It turned out rather stunning and she loves it. Thank you!
Custom Doors
There's another patron couple and project that I'm so very proud of from last year… but where do I begin?
These two have been supporters and patrons at Stone & Glass for many years, since my first studio. When we visited their home it is almost like a James Stone private gallery exhibit. They have supported me through some of my best work. I love to visit their home and see my progress over the years. One of the many projects I created for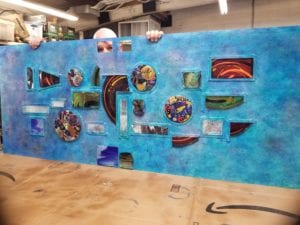 them was their double door front entry. That was a big project. I had to have lots of help to get that one finished and installed. It had been about three years ago and every time I drive up to their home it takes my breath away. A few months back they ask me to create a companion piece for their side door. By the time you read this it will be installed. The real treat for me was that she is also an artist herself, was very involved in the co-creating the piece. She came into the studio and worked directly with us on the final finish. It's very exciting to have talented artists that actually can and want to work together to create something even better than any one of us could do on our own.  We are already talking about their next project. I am so excited to be working with her. Thank you, for your encouragement, patience love and support.
Custom Lighting
I ha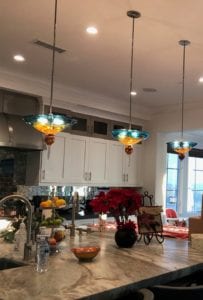 d this lovely woman show up one day with her mother in tow. I really think that her mother was not very fond of us initially. The daughter (my client) was building a large new house. She wanted some custom lighting pieces. In the beginning, we were having trouble understanding each other. But by the time the first project was due; we had developed a clear line of communication and were on the path to building a great patron artist relationship. I really enjoyed making her pieces, but I am most proud that after a significant vender screw-up which resulted in a significant delay, I was still able to finish the two pieces we were working on and get them installed by Christmas, in time for her large family gathering. We are now working on our third piece which I am very excited to create because like the frog, I have struggled to get the color correct, but we finally nailed it and will soon blow the needed pieces. Once again, the client believed in us from the beginning and handed us a challenge and the opportunity to stretch ourselves on multiple fronts and fulfill her dream. Thank you!
Mixed Media Wall Sculpture
There's another wonderful couple who have become collectors of my artwork and decorated their home with blown pieces. They own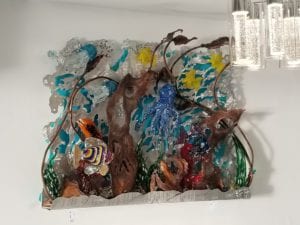 a second home on the beach. She originally came to me to create a wall sculpture for their beach home, loved our copper fountains but we both agreed it did not seem like a good idea to put water on a wall.  We began to look at a cut and cast sculpture but she wanted more dimension.  So I came up with the idea combining aluminum and copper to create the "James Stone" fountain look. That turned out to be challenging because you can't weld copper and aluminum together, they have to be machine screwed together. Yet another challenging project, but one that was well within my skill set, in the end, it came together beautifully, installed without a single hitch and they are enjoying the addition to their beautiful ocean front property. Thanks for the opportunity and for the patience to work out all the small details. Everyone at Stone & Glass loved working on that piece and it showed.
What's next?
After such a wonderful year, what's next? What do I hope 2019 brings? I want to have more opportunities like the ones I had this past year. I am preparing for the more intense projects by advancing Jon, my assistant, into a teaching position. Jon will be taking over many of my classes, so I have more time to develop opportunities for larger custom commission projects. It's been a number of years since I have created a public installation piece, maybe this year one will appear.
I'm writing.
I am also working on writing my biography. When I agreed to take on this project I had no idea what a huge job it would be to get it all down and that is before I really have anything to publish and promote. I am 29,000 words into the project and I am barely past chapter 1. Because I'm an artist, I am also hoping to create a series of new blown glass pieces based on my story. The pieces will be featured in the book and hopefully, I can get a "solo" traveling show of the actual pieces. When we are finally ready to make the pieces, I will be reaching out to my friends, family and patrons to help with the cost of getting everything done. Remember, no one can do great things without great support.
Happy New Year!
Other than that, Carol and I will be working to make Stone & Glass a better place for everyone involved. We want to continue to foster a warm, open and creative environment for our people and patrons. I am wishing each and every one of you a happy, healthy new year filled with peace, love and success in your own life journey.